Home > Speaker > Biography
Biography of Marc O. Stöckli, WG'96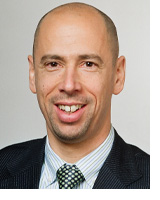 Marc Stöckli is currently a Managing Director of MOS Advisory Services GmbH, where he advises the largest international wealth management unit of a leading, global financial institution and provides Executive coaching with the divisional CEO and all his direct reports along hard topics such as prospect management, profitability or share of wallet as well as soft topics such as HR or time management.
Previously, Marc Stöckli was a CEO and Co-Founder of Totemo AG, a software company, where he led the company market leadership in Europe, boot-strapping all the way to profitable growth, an impressive list of clients (e.g. UBS, Credit Suisse, Helsana, Bank Vontobel, LGT, Government, Swiss Post, banks in Germany and Italy, etc.) and partners (e.g. Siemens, Oracle, T-Systems).
He has additionally has served as a CFO and Head of Corporate Development of Websemantix AG (software company), establishing, finalizing and executing business plan for technology venture company, successfully arranging and executing first-round financing in difficult market in late 2000, searching and installing competent and reputable members of the Board of Directors. Prior to that Mr. Stöckli was a Manager at Boston Consulting Group, where he worked on projects such as establishing internet marketplace for insurance brokers as interim CEO, reorganizing and strategically advising Asia Division of leading reinsurance/ insurance company, and Other projects in banking (M&A advice; fixed income strategy), insurance (market and sales organization incl. incentive system; reinsurance strategy for banking clients), pharmaceutical (global drug development organization and processes).
Marc Stöckli has received his Master of Law at the University of St. Gallen and his MBA at the Wharton School at University of Pennsylvania. A Swiss native, Mr. Stöckli speaks fluent English, German, French and is conversant in Japanese and Spanish. He is a Board Member of Swiss Wharton Alumni Club (President), Nexus Wharton Alumni Organization and a Co-Chairman of the Wharton Global Alumni Forum of 2007. His interests include sports (tennis, soccer, snowboard, waterski), and adventure travel (extensive travel in Europe, Asia, North and Latin America).