Speaker > Biography
Biography of Harry Welten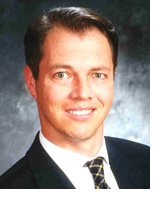 Harry Welten, MBA, has more than 19 years of international experience in finance and entrepreneurship.
He joined Arpida AG in August 2001 as Chief Financial Officer. Arpida AG is a biotech company based in Basel/Switzerland and is listed on the Main Segment at the SWX Swiss Exchange ("ARPN"; Market Cap CHF 650 million).
In this function, Mr. Welten raised more than CHF 230 million: (i) CHF 85 million in one of the largest private equity fund raisings in European Biotech in 2004; (ii) CHF 97 million in one of the largest biotech Initial Public Offerings in Europe in 2005 and (iii) CHF 52 million in a secondary offering in 2007.
Prior to joining Arpida AG, Mr. Welten was a director at UBS Warburg in New York following various senior positions within the UBS Group. Before joining UBS, he was with ABB and DaimlerChrysler. Mr. Welten holds a degree in banking and finance, a degree in economics and business administration as well as an MBA (Hons.) from Columbia University, New York. Mr. Welten is a Swiss national.