Speaker > Biography
Biography of Vinita Jain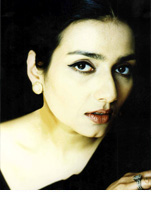 Vinita Jain orchestras a team of Scientists, Dermatologists, Ayurvedic Doctors and Biotechnologists to extract Nature's body of knowledge to treat and preserve your health and beauty through a range of skin and hair care products and food supplements called Biotique. At Biotique hybrid plant and plant extracts are combined with biotechnology to produce highly effective products. We have a special cold extraction process that preserves the active ingredient of the plant so that the intelligence of the plant can interact with the intelligence of the body to promote health and beauty. Formulated from organically grown pure plant extracts Biotique products are made to EEC and FDA standards and incorporates the principles of preventive medicine for everyday use.
Vinita spent her childhood amid the lush greenery of her father's eighteen tea estates in Assam and Darjeeling where she imbibed the ancient Science of Ayurveda. After graduating from Delhi University Vinita studied biotechnology in Switzerland, and then attended the Management program at the Stanford Graduate Business School. She used her immense knowledge and interest in bio science to start Biotique and make it synonymous with serious skin and hair care embodying ancient systems passed on through generations mingling with contemporary science and beauty treatment requirements.
Biotique products are based on botanical extracts of plants, herbs and trees and the protein content in their roots, leaves, flowers and fruits. They are 100% vegetarian, environmentally friendly and biodegradable.