Guest Program
June 30, 2007 (SATURDAY)
Whole Day Zürich Tour
Note: Minimum number of participants is 20 people.
Lunch at Restaurant Mère Catherine
Duration: 8 hours with lunch
Depart at meeting point: 9:00 am
Return hotel: 5:00 pm
Note: Minimum number of participants is 10 people.
MORNING - Guided city tour of Zürich's old town
Everyone - also local people - will find that a guided walk through the old town is a worth-while trip full of discoveries. Come face to face with Zürich's past through a selection of buildings, history and anecdotes. You too will be fascinated by the numerous indications of bygone days, which document the early international significance of the city. A must for every guest.
Scenes of Zürich
LUNCH - At a local restaurant
AFTERNOON - Lake Cruise Boat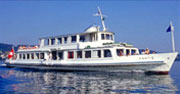 Ships have been cruising on the Lake of Zurich for centuries. They offer passengers a unique vantage point on the lake's changing panorama, over time, place and seasons. From Zurich's sumptuous port, through a series of picturesque villages stretching over bluish hills, and the wine growing areas…