Speaker > Biography
Biography of Jacob Wallenberg, W'80, WG'81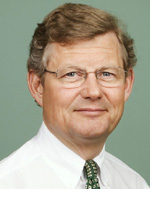 Jacob Wallenberg is Chairman of the Board of Investor AB and Vice-Chairman of SEB, Skandinaviska Enskilda Banken AB and a Board member of the Knut and Alice Wallenberg Foundation. AB.
Mr. Wallenberg serves also on the Boards of Atlas Copco AB (Vice Chairman), SAS AB (Vice Chairman) and ABB. Mr. Wallenberg also serves on a number of non-corporate Boards such as the Nobel Foundation.
Born in Stockholm 1956, Mr. Wallenberg was educated at the Wharton School, University of Pennsylvania, where he earned a Bachelor of Science in Economics in 1980 and an MBA in 1981.
After extensive training programs at a number of international banks Jacob Wallenberg joined SEB in 1984 and held various posts at the bank in primarily in Sweden but also in Singapore, Hong Kong, London and New York.
From 1990 to 1992, Mr. Wallenberg was Deputy Managing Director of Investor AB, an investment company with substantial interests in several major Swedish corporations.
After rejoining the SEB Group in 1993, Mr. Wallenberg was appointed CEO in 1997 and was Chairman of the Board between 1998-2005.
Mr. Wallenberg attended the Royal Swedish Naval Academy and is today an Officer in the Royal Swedish Naval Reserve.
He is married to Marie, has three children and outside family life he enjoys golf and sailing.
Click here to read article "Sweden's enduring business dynasty - The Wallenbergs" extracted from The Economist, 14 October 2006.