Speaker > Biography
Biography of Dattaraj V. (Raj) Salgaocar, WG'81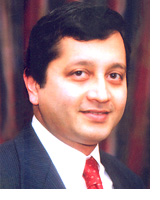 QUALIFICATIONS
Bachelor of Production Engineering, V.J.T.I.
University of Bombay, 1978
M.B.A. (Finance) Wharton Business School,
University of Penn., U.S.A. 1981
Academic awards: 10th in Goa Board at the SSC exams(1972),recipient of Wadia Math scholarship at St Xaviers (1973) and 5th in BU for Prod Engg. Also awarded the J.N.Tata Scholarship for foreign studies
BUSINESS INTERESTS:
Owner and Managing Director of V.M.Salgaocar Group of Companies which has interests in ore mining, processing and exports of iron ore, shipping, real estate, agriculture, media and health care. The Group has successfully diversified in setting up a 5-star deluxe hotel in Goa tying up with Marriott International and into power generation, transmission and distribution by setting up Goa's first and only dual fired power plant with Reliance, India's largest private sector Group.The Group has also various Trusts and Foundations which run Goa's first Law College,a 80 bed hospital, Goa's oldest ICSE school with 1750 students, the Salgaocar Football team and gives scholarships to deserving students besides funding various social outreach programs.
POSITIONS IN GOA:
President, Goa Mineral Ore Exporters' Association from 2004. Vice President, Goa Chamber of Commerce & Industry since 2003. Honorary Consul for Austria in Goa, Kerala and Lakshadweep since 1996, Director, Economic Development Corporation of Goa Ltd. Panaj since 2005 . President, Salgaocar Medical Research Centre, Goa. Life Member, INTACH, Goa since 1984. Member, Governing Council, Padre Conceicao College of Engineering, Goa since 1998 and Chairman, Kanchi Kamakoti Peetam Charitable Trust, Goa since 1995. Member, Regional Direct Taxes Advisory Committee (RDTAC), Panaji (Goa) Region, Ministry of Finance, Govt. of India since March 2003. Chairman, Sharada Mandir School Trust, Panaji since 2004. Member, Governing Board, Goa Institute of Management, Goa since 1993. Vice President, Devi Sharvani Education Society's V.M.Salgaocar College of Law, Goa since 1982. Vice President, Salgaocar Sports Club, Goa since 1982
POSITIONS OUTSIDE GOA:
Member, Western Area Local Board of Reserve Bank of India. Member, The Institute of Engineers (India) and ChapterChair, Young Presidents' Organization, Bombay Chapter.
HOBBIES:
Wildlife, Music, Art and Photography.