Speaker > Biography
Biography of Jane Royston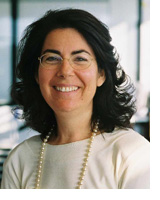 After graduating from the London School of Economics in pure mathematics, Jane joined DuPont de Nemours in Geneva, and was promoted to head of IT for DuPont France two years later.
In 1986, she founded NatSoft SA, a software engineering company. Ten years later, after growing it to over 100 people, she sold the company to Cambridge Technology Partners, and became Regional Vice President for Southern Europe, with responsibility for Switzerland, France, Italy and Spain. She oversaw the integration of NatSoft and CTP, and left the company in May 1997.
Apart from her nomination as Swiss Business Woman of the Year in 1993 & 1994, NatSoft was awarded the Strategis prize for the best managed SME in Switzerland in November 1994.
After leaving NatSoft-CTP, Jane worked in the high-tech start-up world, becoming the first woman in 55 years to sit on the Swiss Federal Commission for Technology and Innovation. She also served on the Swiss Science Council and the Swiss Space Council between 2000 and 2003.
In 1999, Jane became the first professor of entrepreneurship & innovation in Switzerland, holding the first named chair at the EPFL (Swiss Federal Institute of Technology). The immediate success of the programme she developed encouraged other universities, including the IMD, to invite her and her team to teach on a regular basis.
In 2002 Jane designed the new Swiss national entrepreneurship programme, destined to receive CHF 27 million of public funding over a 4-year period.
In 2003 she was nominated to the Swiss Academy of Engineering Sciences.
Currently, Jane chairs the boards of AQUA+TECH Specialities SA (chemicals and encapsulation) and the foundation PRO (employs some 170 handicapped people). In addition, she is a member of the boards of Nobel Biocare AG (an SMI company, world leader in dental implants, crowns & bridges), SuperComputing Systems AG (high performance computing), the Ludwig Institute for Cancer Research in New York (largest non-profit cancer research organisation), as well as the board of the Universities of Applied Sciences (HES-SO).
She chairs the Cluster European Entrepreneurship and Innovation Task Force, and speaks and lectures regularly in North America and Europe, as well as writing regularly on entrepreneurship in the economic press. She has been asked by the president of Switzerland to advise on revitalising the Swiss economy.
A British and Swiss national, Jane has two daughters aged 12 and 16.