Speaker > Biography
Biography of Patrick Odier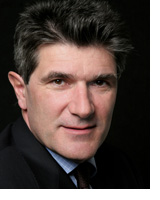 Born in Geneva in 1955, Patrick Odier holds a degree in economics from Geneva University and an MBA from the University of Chicago. He joined Lombard Odier Darier Hentsch in 1982, and acquired professional experience in Zurich, New York and Montreal before becoming a Managing Partner in 1986.
He is currently heading the institutional clients as well as financial products distribution activities of the Group and assumes the strategic responsibility for communication and business development. Patrick Odier is also chairing the Due Diligence Committee of the Lombard Odier Darier Hentsch Group.
A member of several boards, academic and charitable organizations, Patrick Odier is also Vice Chairman of "Economiesuisse", the Swiss Business Federation, as well as a Board and Committee member of the Swiss Federal Social Security Fund (AHV/AVS) and a Director of the Swiss Financial Institute Foundation (SFI).