Speaker > Biography
Biography of Alain Levy, WG'72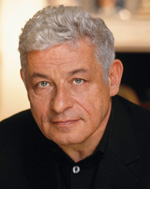 Alain Levy joined EMI Music as chairman and CEO in October 2001 after a career in the music and entertainment industries.

Born in France on 19 December 1946, Levy is a graduate of the Ecole des Mines and of the Wharton Business School where he obtained an MBA, majoring in finance and MIS. He joined CBS International (now Sony BMG) in New York in 1972 as assistant to the president and a year later moved to the company's European headquarters in Paris where he was put in charge of manufacturing and logistics. In 1976 he was appointed vice president of marketing in Europe and later also assumed the management of CBS Italy. In 1979 he became managing director of CBS France.

In 1984 Levy moved to PolyGram as CEO of its French operations. He built the business into France's largest record company with a market share of over 30%, record levels of profitability and artists such as Serge Gainsbourg, Johnny Halliday and Vanessa Paradis.

In 1988 he moved to London to become executive vice president of PolyGram in charge of its worldwide pop and music publishing activities. During this time, he played a leading role in PolyGram's negotiations to acquire Island Records in 1989 and A&M Records in 1990 which brought to PolyGram artists such as U2 and Sting.

In 1990 Levy moved to New York, adding to his direct responsibilities PolyGram's operations in the US. The following year he was appointed worldwide president and CEO of PolyGram.

Beginning in 1993, Levy led the company's expansion into the worldwide movie business with the establishment of PolyGram Filmed Entertainment which produced and distributed films such as Four Weddings and a Funeral, Trainspotting, Bean, Fargo and Dead Man Walking.

At the same time he continued to build PolyGram's music operations and was responsible for the acquisition of Motown and Def Jam. In 1993 PolyGram became the number one music company in the world and remained in this position until 1998 when the company was sold to Seagram.

After leaving PolyGram in 1998, Levy consulted and made seed investments in a number of different media companies. He sits on the advisory board of Schroders Ventures in the US, on the European advisory board of Wharton Business School and, in July 2006, was appointed chairman of the Advisory Board of the Film Business Academy at Cass Business School in London, the world's first international centre dedicated to the business of film.