Speaker > Biography
Biography of Leslie Koo, WG'81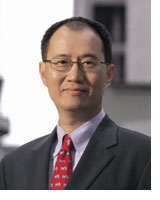 Mr. Leslie Koo was born in Taipei, Taiwan on November 28, 1954. After completing high school education in Taiwan, he enrolled in the University of Washington, Seattle, Washington in 1974 majoring in accounting.
After graduation, Mr. Koo returned to Taiwan in 1977 and worked for two years as a senior auditor at the firm of T N Soong & Co./Authur Anderson & Co. in the Republic of China. He went back to the United States in 1979 and entered the Wharton School, University of Pennsylvania where he earned his MBA in 1981.
In 1982, Mr. Koo joined the Taiwan Cement Corporation (T'CEMENT), starting as a specialist in the Electronic Data Processing Center. He was responsible for the design and implementation of the distributed processing decision support system for T'CEMENT; the system architecture was recognized as one of the first of its kind in Taiwan. Three years later, he was promoted as manager of the Corporate Planning Department. Mr. Koo initiated the first five-year strategic plan for T'CEMENT with the focuses on diversification towards businesses with higher growth rates of returns and high-tech industries as well as regionalization of the traditional line of business. In 1988 he became vice president in charge of corporate planning, accounting and finance, T'CEMENT. Appointed as president of the Taiwan Cement Corporation in April 1991, Mr. Koo has held the position since and he was elected as chairman in 2003.
Under Mr. Koo's leadership, Taiwan Cement Corporation currently is the largest cement manufacturing and sales company in Taiwan with more than 10 million tones of annual production and 55% of the market share. According to the China Cement Net, one of the most important cement media in China, T'CEMENT also ranked as the third largest cement company in the greater China in 2005. Since 2003, Mr. Koo has initiated a very aggressive Southern China Cement Strategy. By 2006, T'CEMENT operates five manufacturing sites with more than 8.1 million tons of annual capacity in Fujian, Guangdong and Guangxi provinces of China. Mr. Koo's aspiration is to bring T'CEMENT to become one of the leading cement manufacturing companies in China by 2008 with more than 30 million tons of capacity in Taiwan and China. The current market cap of T'CEMENT is more than USD$2.2 billion with about 1800 employees.
He concurrently serves as chairman of Ho-Ping Power Company, chairman of Ta-Ho Environment & Technical Services Co., Ltd., chairman of China Synthetic Rubber Corporation, chairman of Continental Carbon Company (USA), chairman of Synpac (North Carolina) Inc., director of Taiwan Stock Exchange Corporation, director of Taiwan Polypropylene Company Limited, and director of Far Eastone Telecommunications Co., Ltd.
Mr. Koo is active in participating in business and community organizations. He is chairman of Taiwan Britain Business Council and also serves as director of Chinese National Association of Industry and Commerce, director of ROC-USA Business Council, director of Sino-British Culture and Economy Association, and managing director of Taiwan Cement Manufacturers' Association. In the meantime, Mr. Koo was chairman of Chinese-Philippine Business Council in 1998-2002 and won the 1999 Eisenhower Exchange Fellowships from Taiwan.