Speaker > Biography
Biography of José Silva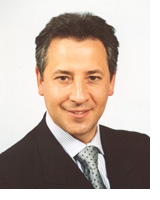 Of Portuguese origin, José Silva arrived in Canada at the age of eight. His duties within the Four Seasons Hotels & Resorts Group, with whom he has worked for 15 years, brought him back to his native country in 1997 to take up the management of the Four Seasons Hotel Ritz in Lisbon, when this hotel was relaunched under the Four Seasons banner.
It was under similar circumstances that he found his way to Geneva, where he arrived in April 2005 in order to prepare for the reopening of the Four Seasons Hôtel des Bergues. For him, Geneva is a centre of activities where business and relaxation can be pleasantly combined. The lake, the mountains close by, and the museums are not the least of its attractions. As a fine connoisseur, he has been able to appreciate the qualities of Geneva's vineyards, and local products will be featured in the Hotel's restaurant, Il Lago.
José Silva is also sensitive to the almost mythical value of the Hotel des Bergues: "our Hotel, the oldest in Geneva, has been associated for decades with large family parties. I am looking forward to returning this place to the people of Geneva, many of whom have memories linked to this historic building. And I hope that we will provide unforgettable moments for passing visitors too."
Thanks to his very pragmatic approach to the role of general manager and to his profound knowledge of the different aspects of hotel management, José Silva has already demonstrated his mastery of the art of creating a stimulating climate of collaboration between all members of his staff, whatever their function or position. He is lively without being extroverted, defends his convictions with warmth without imposing them on others, and his enthusiasm is infectious among his colleagues who strive to emulate him in providing the best possible service. In choosing good people, identifying their motivations and encouraging them to find the right balance between a relaxed attitude and formal behaviour, he helps each staff member define his own interpretation of his creed, according to which service should both be natural and anticipate clients' expectations. For, as he is fond of repeating, « a priori we do not know what each of our clients expects… so there is no limit to listening attentively, to personalised attention, and to offering the best possible service suited to each client ».