Speaker > Biography
Biography of Alex Gorsky, WG'96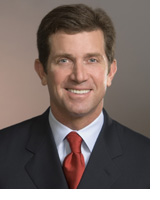 Alex Gorsky was appointed Head of Pharma North America and Chief Executive Officer of Novartis Pharmaceuticals Corporation in the Fall of 2005. He is responsible for North American pharmaceutical operations, which includes both the United States and Canada.
Since joining NPC in 2004 as Chief Operating Officer and Head of General Medicines, Mr. Gorsky quickly established himself as a leader who is well equipped to build upon NPC's success. Mr. Gorsky has overseen the continued growth of Novartis' industry-leading cardiovascular franchise, which includes blockbuster products Diovan and Lotrel. He oversaw the launch of Enablex, a product for over-active bladder, and completed a deal with Procter & Gamble to co-promote and further develop the product. He was also involved in the launch of Focalin XR for ADHD. He was instrumental in developing NPC's Medicare strategy and oversaw a realignment of the company's sales force. A champion of diversity in the workplace, he created NPC's CEO Diversity & Inclusion Award.
Before joining Novartis, Mr. Gorsky was based in London as Company Group Chairman for Johnson & Johnson's pharmaceutical business in Europe, the Middle East and Africa. Prior to that, he spent 15 years in various sales, marketing and management roles at Janssen Pharmaceutica, a Johnson & Johnson unit, and was based in New Jersey. Mr. Gorsky began his pharmaceutical career as a sales representative and held various roles of increasing responsibility in sales, marketing and general management.
Mr. Gorsky holds a 1982 bachelor's of science degree from the U.S. Military Academy in West Point, N.Y., and spent six years in the U.S. Army, finishing his career with the rank of Captain. During that same time, he earned the Ranger Tab, Airborne Wings, and served in Europe, the United States and Panama. He obtained a master's in business administration from The Wharton School of the University of Pennsylvania in 1996.
Mr. Gorsky has also been actively involved in the National Alliance for the Mentally Ill, the National Alliance on Aging, the Philadelphia College of Pharmacy, the Doylestown Hospital Board, the Boy Scouts of America, and as a Youth League lacrosse coach.
Mr. Gorsky is a former marathon runner and tri-athlete. His passions include his family, American and English literature and fitness.