Speaker > Biography
Biography of Prof. Dr. Ernst A. Brugger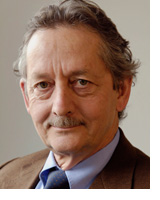 Ernst A. Brugger is a founding partner and the President of BHP – Brugger and Partners Ltd., a consulting firm specialized in sustainability strategies for private and public organizations. His special focus is on sustainability in and through capital markets. He began his professional career as head of the National Research Program "Regional Policy in Switzerland" on behalf of the Swiss National Science Foundation. From 1981 on he also taught at the University of Zurich, where he is a part-time professor today.
Over the last 25 years he has carried out responsibilities in both business and public administration. He was active as an entrepreneur and advisor in Latin America for ten years and built up the FUNDES foundation for SME-development there. He has been a consultant to businesses and institutions in Europe, the US, Latin America, Africa and Asia for many years.
Ernst A. Brugger is chairman of the board of Sustainable Performance Group, Zurich, of SV Group, Zurich, and BlueOrchard Finance s.a. (Microfinance), Geneva, and a member of numerous organizations in Switzerland and abroad. As co-founder and CEO of The Sustainability Forum Zurich and in his project work he advocates the implementation of long-term strategy, corporate responsibility, sustainability and good governance in business and politics.